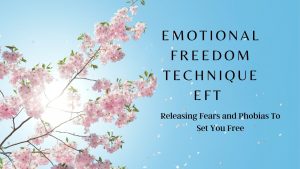 EFT or Emotional Freedom Technique and other similar technique's have their roots in Chinese Acupuncture and other oriental treatments. They can be traced back  through the ages to 5000 BC.
EFT is a meridian energy therapy and, just like acupuncture, works directly on the meridian system in the body. However, instead of inserting needles, the major meridian points are stimulated by a series of tapping movements on them.
EFT is a true mind/body healing technique. It combines the physical effects of the meridian treatments with the mental effects of focusing the mind on firstly the negative thoughts we are holding on to and replacing them with positive thoughts that release the pain, phobia, limiting beliefs that have been stopping your full potential being reached.
Why EFT
Usually works very quickly and with long lasting relief from symptoms
We work together enabling better understanding of what is happening
Once learnt can be used as a self-help tool in many cases without any expensive equipment
The very least EFT will do for you is to relax you, making you feel more positive about how you feel
Can put you back in control of your problems